Oliver Queen Steps Up (Um, Literally):  The Arrow Finale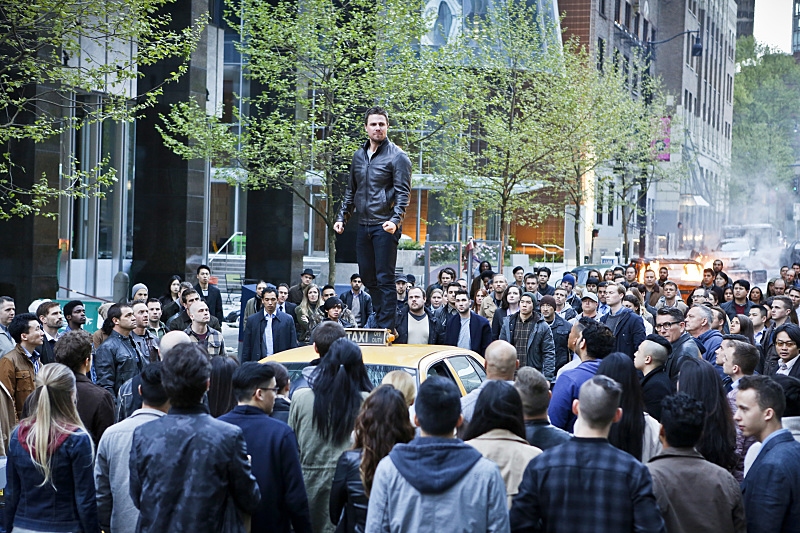 Anyone who knows me knows I'm a little too obsessed with Arrow, and yet I'm also really aware of the shows flaws.  One of the things that has frustrated me over the past four seasons is how rarely the hero of the show, Oliver Queen, gets to actually act like a hero.  I know they're trying to show character growth and all that, but it's been a painful ride at times.  The the last few episodes of the show, and the season finale that aired this week finally started to fix that.
In fact (with the help of a couple of pep talks) it was Oliver who kept everyone going when it looked like they might actually have come to the end of the world.  First as himself (in the image above) giving a major pep talk to the scared citizens and second in his Green Arrow guise leading those citizens in a major attack, magically fueled by hope, on the season's big bad.
And while I was sad to see Oliver's brother-in-arms John Diggle (I love Digg!) taking off in a cloud of pain and doubt at the end of the ep, this exchange between them was one of my favorite of the episode:
Oliver – "John, I have never done this without you.  You're the one that keeps me in line."
John- "Oliver, I don't know if you've been watching lately, but it's been the other way around man."
Five Quick Thoughts (Hah!) on The Flash Finale
Really great to see John Wesley Shipp leave the show as a version of The Flash. He's been a great Henry Allen, and it's a great nod to his past role as The Flash.
Loved that it showed Caitlin actually still being shaken up from being held hostage by Zoom – but that she was able to work through it to help the team.  Superhero shows don't always do a good job of showing emotional consequences.
Harrison Wells finally calling Cisco by his first name as he too rode off into the sunset.  It was a nice little moment.
Hope super-angsty Barry doesn't last too long, but I will be really fascinated to see how his last second major timeline alteration shakes out.
Um, if The Flash and Arrow exist in the same universe – and Oliver's battling nukes in Star City and Barry's trying to save

all of existence

in Central City, don't you think these boys would coordinate, just a bit?